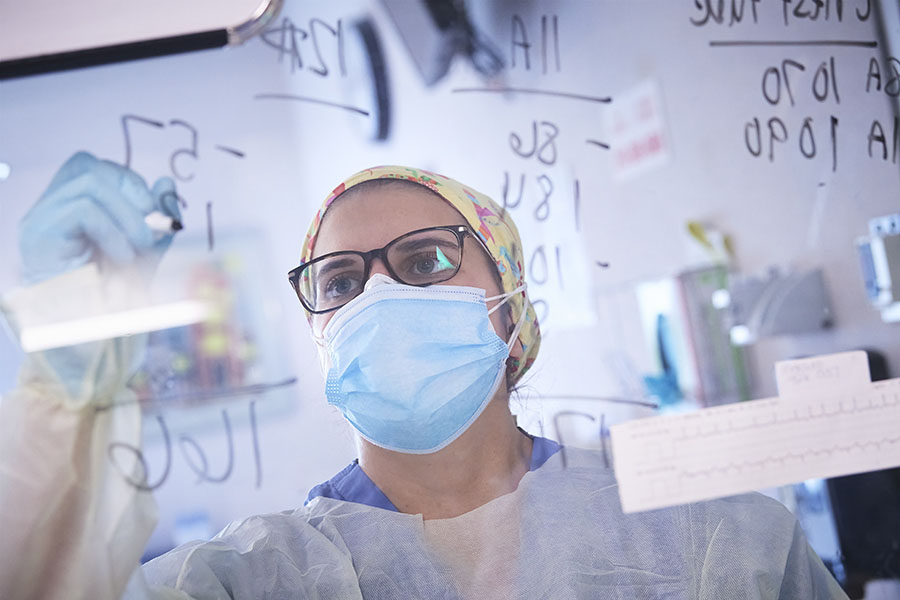 The Temple Lung Center is a long-time leader in treating the most serious lung diseases. That experience and expertise proved beneficial when the COVID-19 pandemic hit.
Very quickly, Temple became a focal point in the fight against COVID-19, initially treating the most patients in the region; collaborating with others to create a COVID response plan; educating the public and healthcare providers throughout the country; and conducting research to better understand and control the virus. Most importantly, patients who were treated at Temple for COVID-19 had superior outcomes.
Achieving Excellent Survival Rates
While managing some of the highest COVID-19 volumes in Philadelphia, Temple's medical team has simultaneously achieved survival rates far better than the national and regional averages (according to the AAMC Medicare Catchment Area Report 2021).
The rate of inpatients who died at Temple was 15% lower than other hospitals in Pennsylvania and 28% lower than the national average. Temple also put fewer patients on ventilators — 21% below the national average — and had fewer COVID cases with ICU days than other hospitals in the state and in the nation — 28% and 9% lower, respectively.
These statistics are even more meaningful when you consider that Temple cared for some of the most vulnerable and medically complex patients in the region. Temple's vast experience in treating serious lung disease, paired with its world-renowned research program, gave its patients with COVID a higher chance at surviving this novel disease.
At the Forefront of Research
The Temple Lung Center has one of the world's most active pulmonary research programs, including a robust slate of clinical trials that are testing new treatments and medications for the most serious lung diseases.  
This experience means Temple can offer patients a wider array of treatment options than most hospitals. It also means Temple was well-positioned to be a leader in COVID-19 research.
Since the outbreak of the pandemic, Temple has led or participated in dozens of clinical trials that are unraveling the mysteries of the coronavirus and testing novel treatments for COVID-19, including vaccine trials.
Temple physicians have published their findings in medical journals and shared their knowledge and expertise with other healthcare providers, hospitals and nursing homes across the state and nation.
Continuing to Expand Treatment Options and Innovate
As more continues to be learned about the coronavirus, Temple has added services to benefit patients who are at high risk for severe disease or struggling with ongoing symptoms.
Temple is one of the only hospitals in the region offering COVID monoclonal antibody therapy for patients who test positive for COVID and who are most at risk for developing severe symptoms. These infusions have been shown to reduce COVID-19-related hospitalizations for some patients.
Temple has also opened a Post-COVID Recovery Clinic for "long-haulers" — people who are still struggling with health problems long after they have seemingly recovered from COVID-19.
The clinic brings together Temple lung specialists to address the full breadth of COVID-19 symptoms and needs. Temple's vast experience treating complex lung disease means it's uniquely qualified to manage the care of long-haulers.
The fight against COVID-19 requires expertise, ingenuity, determination and leadership. Exactly the traits found at Temple.