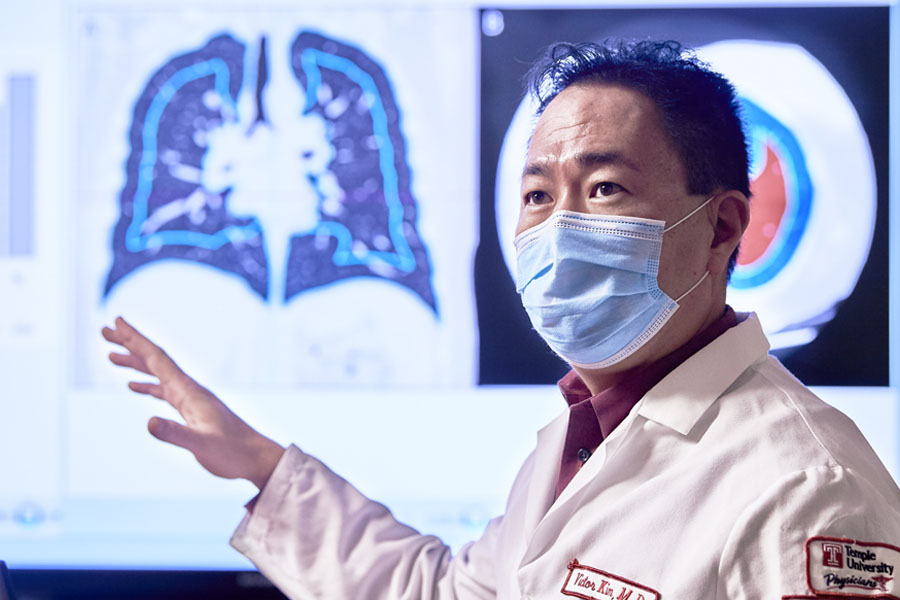 Patients with pulmonary disease who do not find relief with standard treatment options often look for opportunities to participate in a clinical trial. The Temple Lung Center offers dozens of clinical trials at any given time. Through extensive collaboration with research colleagues throughout the country, Temple is a national leader in helping patients with lung disease live their healthiest lives.
Advancing the Standard of Care Through Clinical Trials
As one of the most comprehensive pulmonary clinical trial programs in the country, the Temple Lung Center has made a major impact in basic, translational, and clinical research — offering clinical trials that have dramatically changed how lung disease is treated. And we don't just participate — we lead the way.
For example, Victor Kim, MD, Professor of Thoracic Medicine and Surgery at the Lewis Katz School of Medicine at Temple University (LKSOM), is recognized in the chronic obstructive pulmonary disease (COPD) research community for his work in many clinical trials, particularly among patients with chronic bronchitis. Dr. Kim dedicates a large portion of his time to research, providing his patients with multiple opportunities to participate in clinical trials that may not be offered elsewhere.
Dr. Kim is the co-Principal Investigator for a new, innovative study aimed at reducing mucus-producing cells in the lung's inner lining (the epithelium), which causes chronic bronchitis. Traditional medical therapy for this condition is limited and often doesn't provide much relief in terms of symptoms. Using a new technique, called rheoplasty, a flexible bronchoscope (a thin tube with a tiny camera) and pulse electrical fields get rid of these mucus-producing cells in the airways. Temple is one of only a few U.S. institutions enrolling patients and performed this therapeutic procedure on one of the first 3 patients in the nation.
This study may soon prove to be a breakthrough in how patients with chronic bronchitis are treated to significantly reduce symptoms and dramatically enhance quality of life.
By pioneering effective therapies such as these, the Temple Lung Center brings hope to patients with serious and debilitating lung diseases.