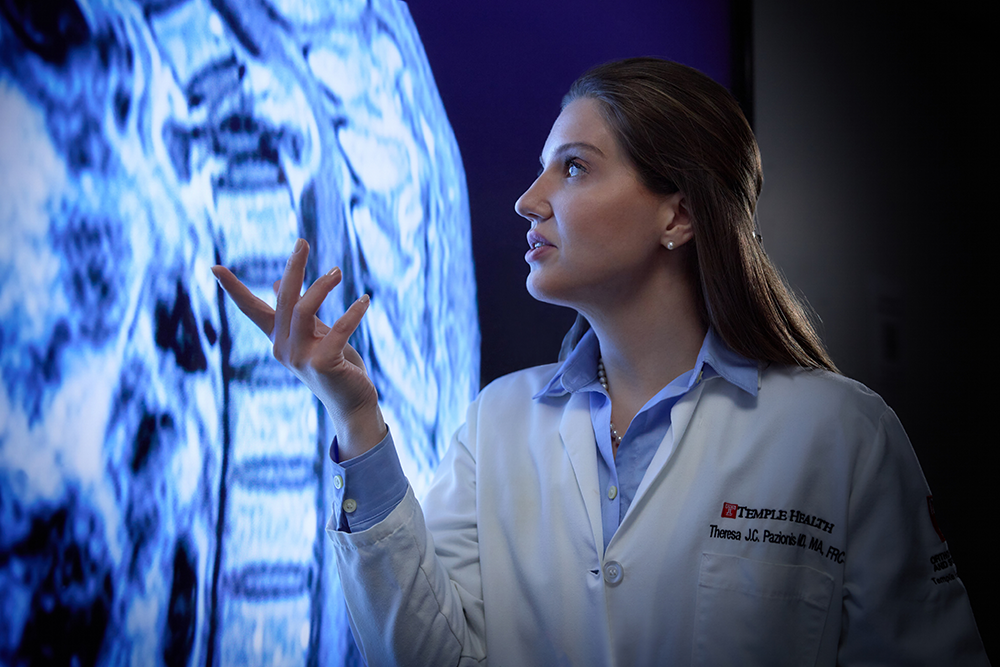 Patients with severe spine conditions and injuries often live with chronic pain and limited mobility. Even when corrective spine surgery is recommended, the approach can be daunting, especially when a better quality of life seems so far out of reach. 
Superior Precision When It Matters Most
Temple Health's leading spine program combines the expertise of top surgeons with the leading technology to stay at the forefront of corrective spine surgery, restoring the quality of life for patients with the most debilitating conditions. 
The most recent addition to our Spine Care Program is a revolutionary robot with surgical and navigation technology in a single, multi-purpose tool — enhancing safety and accuracy, and reducing surgery duration and post-operative downtime. With speedier recoveries, patients can get back to doing things they love, sooner. 
Leading the Field in Robotic Spine Surgery
Temple physician Theresa Pazionis, MD, MA, FRCSC, ABOS, Assistant Professor, Orthopaedic Surgery & Sports Medicine, is at the forefront of treating patients with some of the most complex spine conditions using robotic surgery. Combining her advanced surgical knowledge with this state-of-the-art robot, Dr. Pazionis can see integrated imaging, enabling more precise placement of screws during spine procedures. This reduces operative time, radiation exposure and blood loss, and helps patients have a faster recovery and return to activity.
Optimal Outcomes for the Most Challenging Spine Conditions
This approach made all the difference to Eileen S., a patient who suffered from increasingly serious pain and numbness due to a degenerative condition affecting her lumbar spine. Eileen was living with debilitating pain, unable to do everyday tasks. She had deferred surgery for nine years, fearful of risks in such a sensitive and important part of her body. Then, after consulting with Dr. Pazionis, Eileen knew she was in good hands. 
Eileen's outcome is astounding — she was walking the next day, and within a couple months, she was already enjoying restored strength and capabilities — most importantly, without chronic pain.
At Temple Health, we work every day to find solutions for complex conditions and create better options for patients.