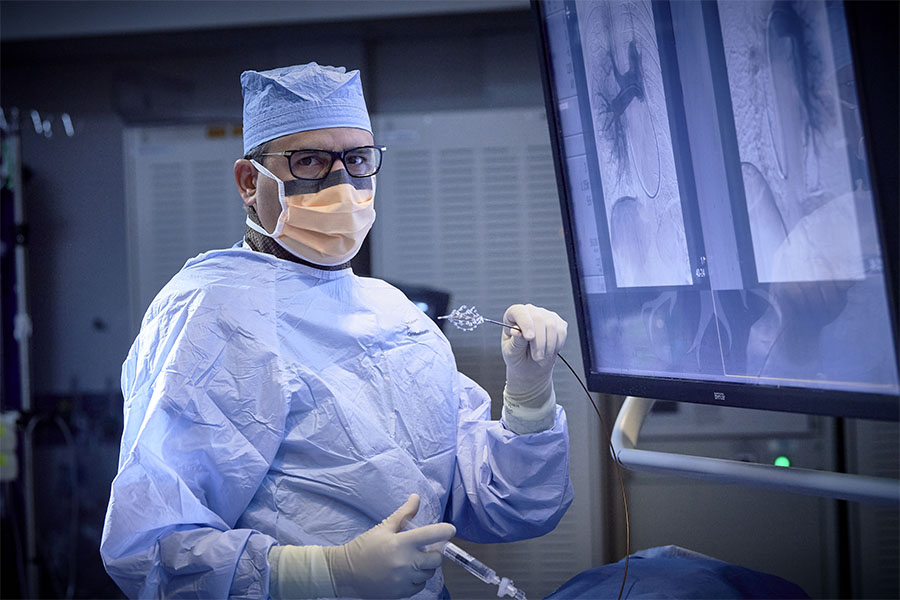 Blood clots that cause heart attack and stroke require immediate treatment with surgery or clot-dissolving medications. But in some cases, a clot that blocks blood flow can be too large to safely remove using these methods. Until now, there has been no clear solution to this problem.
Dissatisfied with current treatments for deep vein thrombosis (DVT) and pulmonary embolism (PE), Temple cardiologist Dr. Riyaz Bashir designed a new solution. His groundbreaking invention — the FDA-approved Bashir™ Endovascular Catheters — uses a specialized catheter and the body's own blood to dissolve clots much more quickly and with less medication than current methods. The difference for patients can be life-saving.
Critical Solution Leads to Innovative Device
Already FDA approved to treat DVT, the Bashir Endovascular Catheters are in clinical trials for the treatment of acute PE, the third deadliest cardiovascular condition. PE occurs when a DVT blood clot breaks away and travels to the lungs, causing approximately 100,000 deaths annually in the U.S. alone.
Trying to remove a massive clot with a catheter risks sending debris from the clot deeper into a patient's veins and arteries. Using medication to break up a clot also carries risks because larger clots require more medication to dissolve, but too much medication increases the risk of potentially deadly internal bleeding.
The Bashir Endovascular Catheters work by sending a small amount of dissolving medicine directly into a clot while simultaneously opening a channel through the clot to allow blood to flow. A patient's own blood has many clot-dissolving chemicals. Combining the clot-dissolving medication with a patient's own blood creates a synergistic effect, allowing the body to clear the clot with minimal risk of side effects.
The Bashir Endovascular Catheters are also unique because they expand into 6 mini-catheters to deliver medication to precise locations throughout the cross section of the clot. This innovative device, developed by physicians at Temple, can now be utilized across the world to combat a significant global public health concern affecting approximately 900,000 patients in the U.S. alone.
Read this Q&A with Dr. Bashir to learn more about this innovative invention >