Flu season is upon us, and with the COVID-19 pandemic, keeping yourself and your loved ones safe looks a little bit different this year.
Read on to find out about the similarities and differences between the viruses, and what you can do to prepare.
What Symptoms Do Flu and COVID-19 Share?
Both COVID-19 (sometimes called coronavirus) and influenza (also known as the flu) share similar symptoms, making it difficult to know which infection you have and how to treat it.
In general, both viruses can have some or all of the following symptoms:
Fever
Chills
Cough
Shortness of breath or difficulty breathing
Tiredness
Sore throat
Runny or stuffy nose
Muscle pain and/or body aches
Headaches
It's also possible for you to have no symptoms at all.
How Are Symptoms of Flu Different from COVID-19?
Even though COVID-19 and flu share similar symptoms, there are also some unique differences, especially with coronavirus.
One unique COVID-19 symptom is a sudden loss of taste or smell. This may be linked to damaged nerve cells that affect your ability to smell. Since smell and taste are closely related, you may also experience a loss or reduced sense of taste in the early stages of coronavirus.
On average, you can expect to regain your sense of taste and smell in 8 or more days, according to the Centers for Disease Control and Prevention (CDC).
Is It Possible to Have Flu and COVID-19 at the Same Time?
Because COVID-19 is caused by SARS-CoV-2 and the flu is caused by influenza viruses (which vary every year), it's possible to have both flu and COVID-19 at the same time. Having both respiratory viruses simultaneously could increase the chances of having serious outcomes.
The only way to know which virus you have contracted is to get tested.
How Do You Get COVID-19 and Flu?
Both flu and COVID-19 are spread by tiny respiratory droplets that are made when people talk, sneeze or cough. Close contact with infected people puts you at higher risk.
You can become exposed or expose other people to the flu without knowing it, as the flu is contagious 1 day before symptoms occur. It's also possible to have COVID-19, but be asymptomatic and not know you're infected.
It's important to protect yourself and others by following COVID-19 guidelines when you're in public, including:
Cover your face and nose
Distance yourself from others by 6 feet when you're outside of your home
Wash your hands frequently and avoid touching your face
If someone in your home is sick, avoid close contact as much as possible.
How Long Does It Take for Symptoms to Appear?
If you get the flu, it can take about 1 to 4 days before symptoms appear.
COVID-19 symptoms can appear 1 to 14 days after infection.
You can be contagious with both viruses 1 day before symptoms appear. While flu can spread up to 7 days after infection, people with COVID-19 may be contagious for much longer. That's why it's important to self-quarantine for 14 days if you experience symptoms of COVID-19.
How Can I Protect Myself and Others from Flu and COVID-19 This Season?
Luckily, steps taken to prevent COVID-19 also help prevent the spread of flu. These include:
Wear a mask that covers your nose and mouth
Practice physical distancing
Wash your hands often
Disinfect high-touch areas frequently
We also recommend a seasonal flu shot to all people age 6 months and up in order to lower your risk of influenza infection by up to 60%.
If you do end up getting the flu, the vaccination can help prevent you from developing a serious case. Because the flu shot decreases your risk of getting influenza, you're also helping to lower the risk of your friends and family getting the infection, including people at high risk, such as those with chronic conditions.
Where Can I Get a Flu Shot?
Now's the time to get vaccinated for the flu, since flu season is already upon us. You can get vaccinated at the following places:
Your doctor's office
Urgent care centers, like Temple ReadyCare
Local pharmacies
Health centers
Health departments
Many schools and employers also offer the flu shot. Keep in mind that it takes about 2 weeks after your flu shot for antibodies to build up in your system.
Take advantage of the opportunity to help keep yourself and your family safe this winter season.
The Flu and COVID-19: Key Differences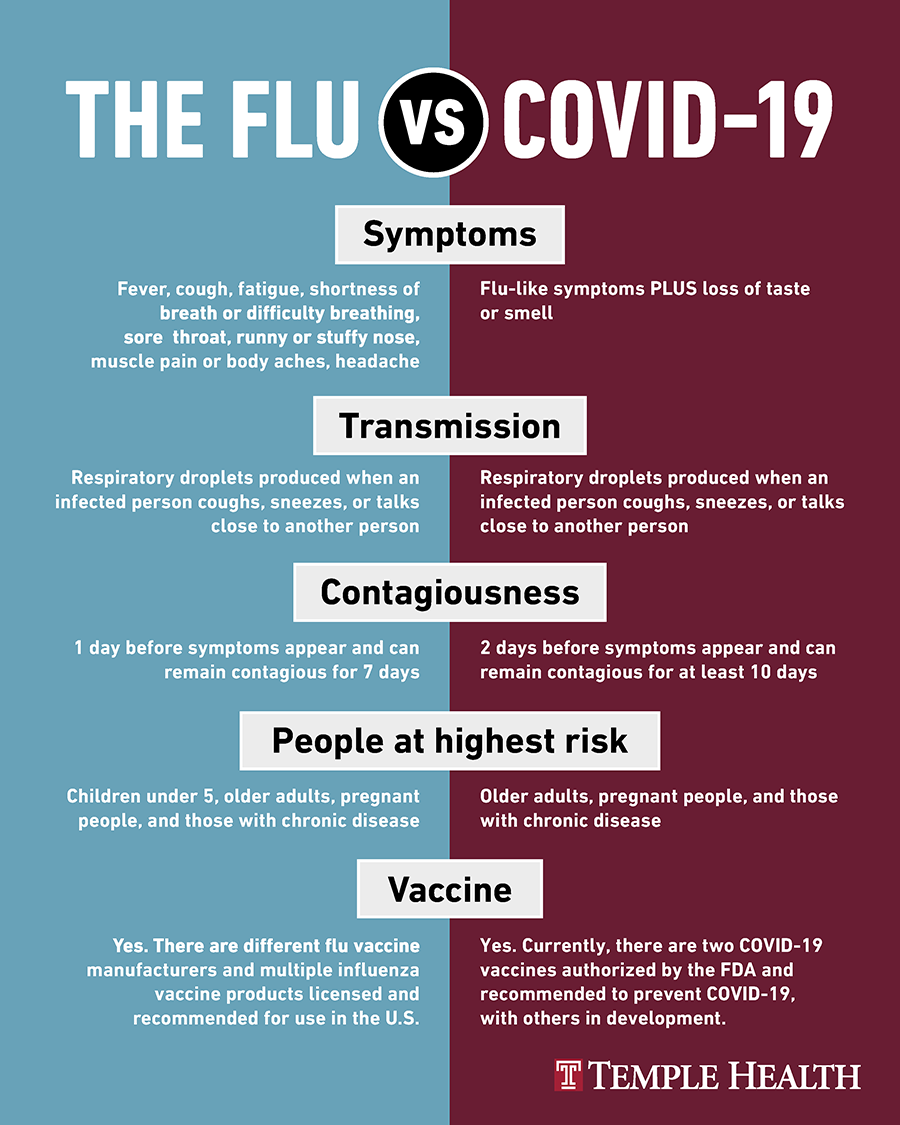 Helpful Resources
Looking for more information?