When people learn that I'm a bariatric surgeon, they often ask me if their weight alone qualifies them for bariatric surgery. There are a number of factors to consider when determining if bariatric surgery is the appropriate tool to help someone in their weight-loss journey. I discuss all these factors with my patients.
As part of the Temple Bariatric Program, we use body mass index (BMI) to assess a patient's weight by taking their height into consideration.
Calculate your BMI using Temple Health's BMI Calculator >
Weight-loss surgery candidates have a BMI of 40+ or a BMI over 35 with obesity-associated medical conditions. Some of these conditions include:
There are other considerations as well. When a patient and I discuss whether they should have weight-loss surgery, I like to help them take a step back and look at the big picture of this procedure.
Bariatric surgery can improve someone's health and even extend their life. However, it's still a major medical procedure with serious risks.
Are you ready for a lifelong commitment?
I discuss all aspects of the journey with my patients, including if they're ready to have surgery. Being "ready" means taking the time to think about if they're emotionally prepared to navigate this big life change. We also talk about the support groups and other resources that the Temple Bariatric Program offers to help them throughout their weight-loss journey.
Most importantly, we discuss how bariatric surgery isn't a "quick fix." Of course, surgery can get patients on the right path to improve their quality of life. But, it's up to them to maintain the results through their support systems and to continue to stay in touch with the program.
Eating a healthy diet and being physically active always matters — even after surgery. A patient who is ready to make a lifelong commitment to these changes is a patient who is "ready" for bariatric surgery.
Bariatric surgery qualifications
All this can be a lot to remember, of course. So I recommend this general list of qualifications if someone is thinking about having bariatric surgery. A qualified candidate:
Has a BMI of 40+ or a BMI of 35+ with obesity-associated medical conditions
Has not been able to lose weight with lifestyle changes or medication
Is willing to make lifestyle changes to support a healthy weight after surgery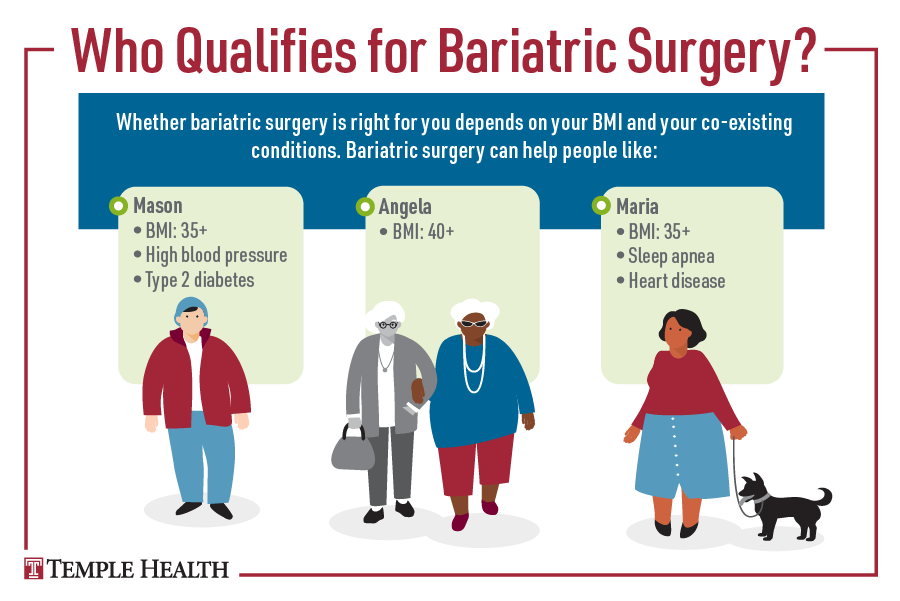 Take the next step
Learn more about weight-loss surgery to decide if it's the right step for you. In our free Virtual Bariatric Surgery Seminar, you'll learn about surgical options and lifestyle changes to make for success. You can also consider starting this discussion with your primary care doctor.