The new 2020 scorecard has been modified to align with the Health Partners Plan (HPP) Quality Program and encourages reduction in member utilization (Emergency Department Visits and 30-Day Hospital Readmissions).
Evidence confirms that discharged inpatients who lack transition of care are at a higher risk of returning to the Emergency Department or being readmitted with much lengthier stays compared with the initial admission. It is clear that the three efficiency measures—30-Day Hospital Readmissions (IP to IP); Emergency Department Visits/1,000; and Rate of Patients who have had a transitions of care interaction within 7 Days of Post-Hospital Discharge—all have a domino effect where each measure impacts the other.
We have revisited the weight (65%) of the revised Efficiency Measures of the 2020 TCIN Incentive Scorecard and decided that additional measures should be added to impact the results and also provide the opportunity for the TCIN practices to achieve successful outcomes.
Note the following changes in the enclosed modified 2020 TCIN Incentive Scorecard and the revised threshold benchmark.
Added a Transitions of Care measure to include same-day office visits, extended evening hours, and Saturday hours to provide open access to members. The practices have already communicated that these slots are available on their providers' schedules. This measure is instrumental in linking patients back for follow-up appointments within 7 Days of Post-Hospital Discharge to Primary Care Providers, which will help decrease 30-Day Hospital Readmissions and Emergency Department Visits.
Expanded the Quality Measures to include HEDIS and STARS metrics to close the gaps in members' care. Improving these measures will also assist the practices with meeting QCP measure incentives for HPP.
Download full-size TCIN 2020 Scorecard (PDF)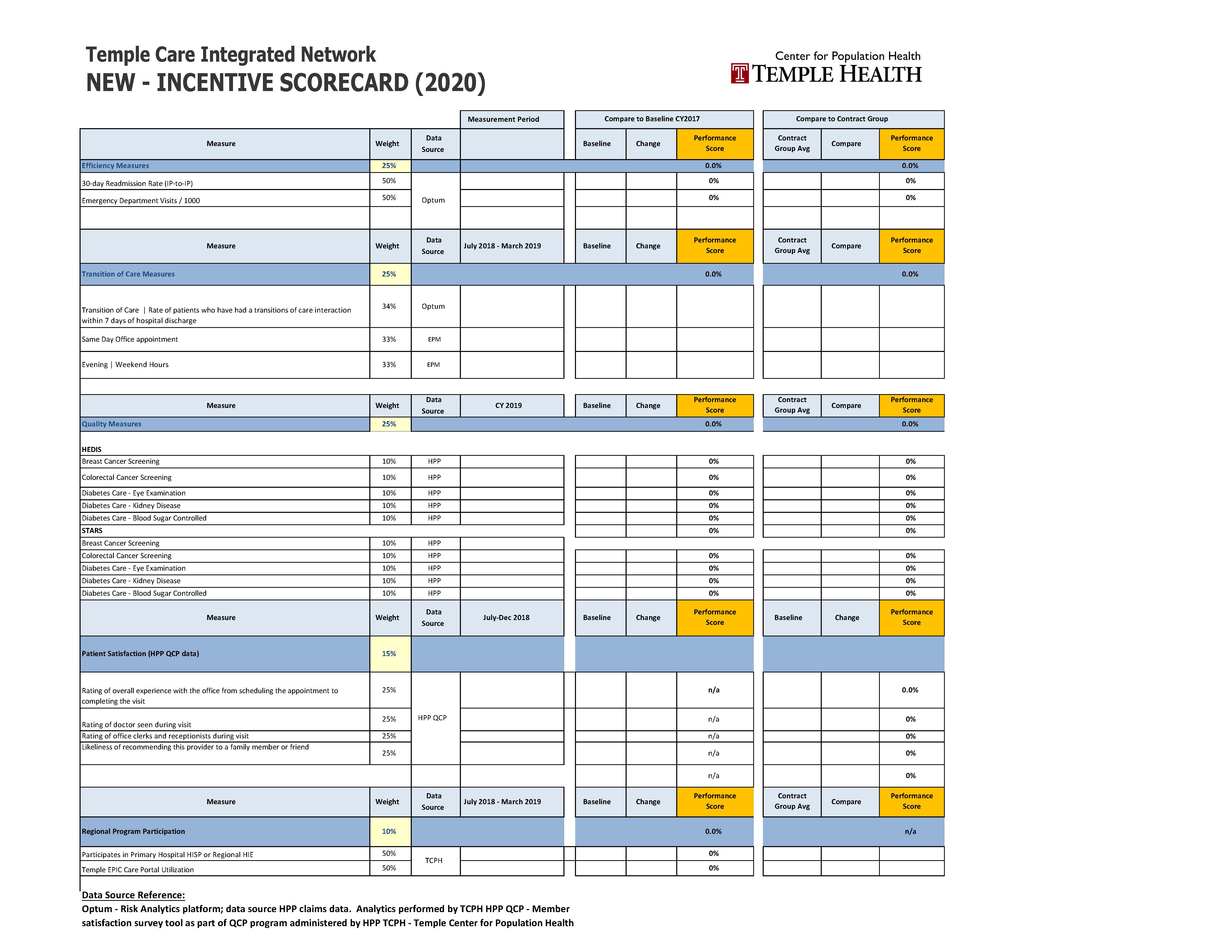 Please contact Chevonne DaSilvio-Nash, Project Manager for the Temple Care Integrated Network, if you have any questions.