To undergo a heart transplant is to undertake a journey to a new life. Since 1984, the Temple Heart & Vascular Institute has guided more than 1,300 survivors through the heart transplant process, including patients considered to be too high risk at other transplant centers.
One of the most important factors for the success of a heart transplant is the preparation of our patients — medically and psychologically — for the transplant procedure and life afterward.
Here, we describe some of the key steps in that process:
The Heart Transplant Process
Step 1: Diagnosis and Referral
When you've reached the point where medications for heart failure symptoms are no longer helpful, and these symptoms are causing you to struggle during normal daily activities and decreasing your quality of life, you and your cardiologist may start to talk about a heart transplant or a ventricular assist device (VAD).
Your doctor may then refer you to Temple, or you may choose us based on your own research. We work closely with your regular cardiologist before, during and after the transplant process.
Step 2: Evaluation
Your team of specialists will include a Transplant Coordinator who will be your main point of contact, as well as:
Advanced heart failure cardiologists who specialize in transplantation and mechanical circulatory support
Cardiovascular surgeons
Nurses specializing in the care of patients with heart failure
Social workers
Nutritionists
Other support staff
The team will conduct a thorough medical history and order a series of tests to evaluate your risk and eligibility for a transplant. The tests may include:
Lab tests
Cancer screenings
Step 3: Approval and Being Listed for Transplant
Once testing is completed, the entire team will meet to discuss your eligibility for a transplant. We evaluate all patients on a case-by-case basis, taking into account each patient's unique condition and personal history. In 2019, we expanded our transplant guidelines, allowing us to often accept patients that other transplant centers turn down.
If the team approves you for a transplant, you will be put on the United Network for Organ Sharing (UNOS) waiting list. UNOS is the private, non-profit organization that manages the United States' organ transplant system. You will be listed according to your medical urgency status, where Status 1 is the most urgent and Status 6 is the least urgent.
Step 4: Continuous Support
The wait for a donor heart varies. At Temple, 70.9% of patients received a transplant within 1 year (compared to the national average of 55.2%), based on data in the July 2021 Scientific Registry of Transplant Recipients report.
While you wait for a donor heart, you'll have monthly appointments with your transplant team, who will monitor you and may change your medical urgency status if your condition changes. Your Transplant Coordinator will be available at any time to address your questions or concerns. You can also participate in our virtual Heart Failure Support Group and meet one-on-one with a patient who has undergone a heart transplant at Temple.
Step 5: Answering the Call
When a donor heart becomes available, it will need to be transplanted within a short window of time. This means you must:
Be within a 4-hour drive of the Temple Heart & Vascular Institute at all times
Carry a cell phone
Provide alternate contacts in case you cannot be reached
Your Transplant Coordinator will contact you right away and provide you with specific instructions, including what entrance to come to and who will be meeting you once you arrive.
Step 6: Living with a New Heart
After your transplant, you'll stay in the hospital for about 2 weeks before returning home. It typically takes about 3 months to fully recover.
Life will never be exactly the same. For example, you will need to take anti-rejection and other medications for the rest of your life. But your Temple Heart & Vascular team will always be here to monitor, support and cheer you on as you continue your life's journey.
Learn more about your care after transplant surgery >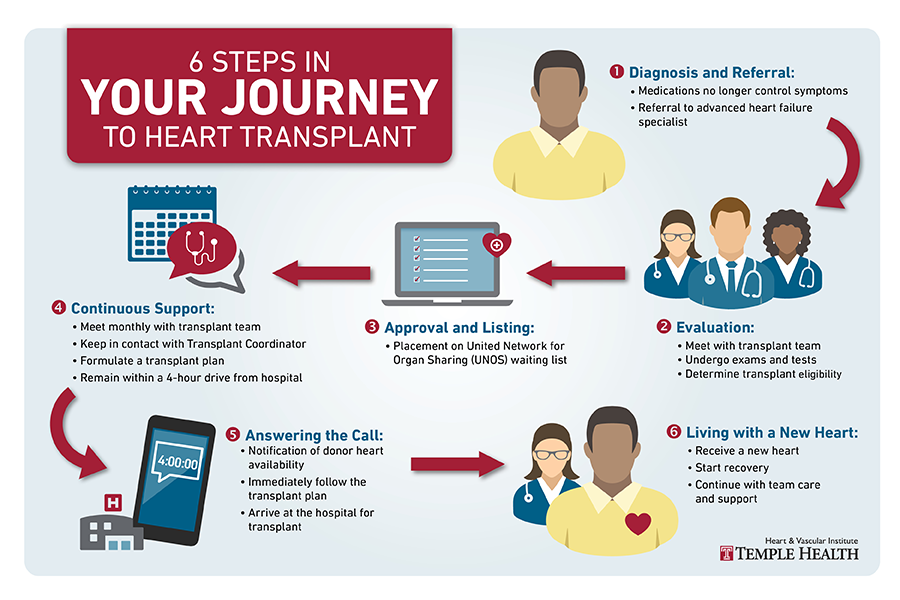 Download a printable version of this image (PDF) >
Ready for an Appointment?
Find a doctor near you, request an appointment, or call 800-TEMPLE-MED (800-836-7536) today.