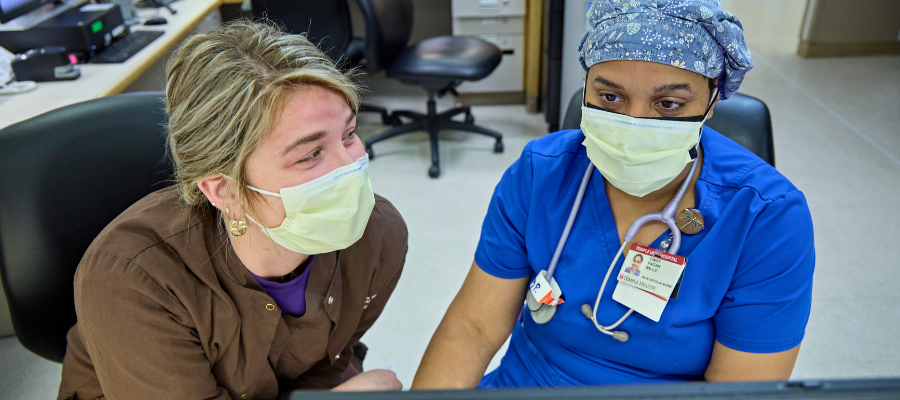 At Temple, we take every chance to foster, enrich, and advance the professional growth of our nurses. Our commitment lies in offering cutting-edge learning opportunities and actively engaging our nurses through various initiatives, including shared governance practices, new nurse training programs, nurse externships, preceptor programs, clinical advancement, certifications, and continuous education.
Highlights of Temple's continuing education programs include:
Nurse Extern Program — A 10-week program offered by Temple University Hospital for rising nursing seniors that aims to improve clinical skillsets, broaden understanding of healthcare delivery, and connect theory to real-life, clinical solutions. Externs shadow Registered Nurses and function as patient care assistants, attending seminars and improving their clinical skills. Temple's nurse extern program draws from nearly a dozen schools in the region and beyond.
New to Practice Program — Open to Registered Nurses with less than 6 months experience, the New to Practice Program provides support and resources for success within the first year of nursing. We ensure our nurses succeed in their educational pursuits by providing practical and emotional support throughout their experience. Nurses gather in cohorts, and will often share stories and exchange advice during "Tales from the Bedside." The program includes seminars, networking, designated resources, career planning, and sign-on bonuses. The program has PTAP Accreditation with distinction, the highest level of recognition by the American Nurses Credentialing Center's Practice Transition Accreditation Program (PTAP). This accreditation sets the global standard for residency and fellowship programs that transition registered nurses and advanced practice registered nurses into new practice settings.
"Success Pays" Program — All Temple campuses belong to "Success Pays," which supports nurses in pursuing specialty certification free of charge through the American Nurses Credentialing Center. Nurses can achieve certifications in specialties such as ambulatory care nursing, cardiac/vascular nursing, and pediatric nursing among others, and are given two opportunities to pass the certification exams.
Tuition Remission and Reimbursement Programs — All Temple nurses are eligible to continue their education tuition remissions and reimbursement benefits at Temple University.

Nursing Shared Governance Councils 

—

Nurses can join several professional councils to contribute ideas, make recommendations, and develop and revise programs for nursing professional development, education, research, and informatics.
Councils include:
Professional Development and Education
Professional Practice and Quality
Nursing Research and EVP
Nursing Informatics
Nightshift Nursing
Episcopal Nursing
Advanced Practice
The structure of these councils elevates the ability of Temple nurses to contribute and gives them a voice in the institution.
Learn more about nursing professional development at Fox Chase Cancer Center.