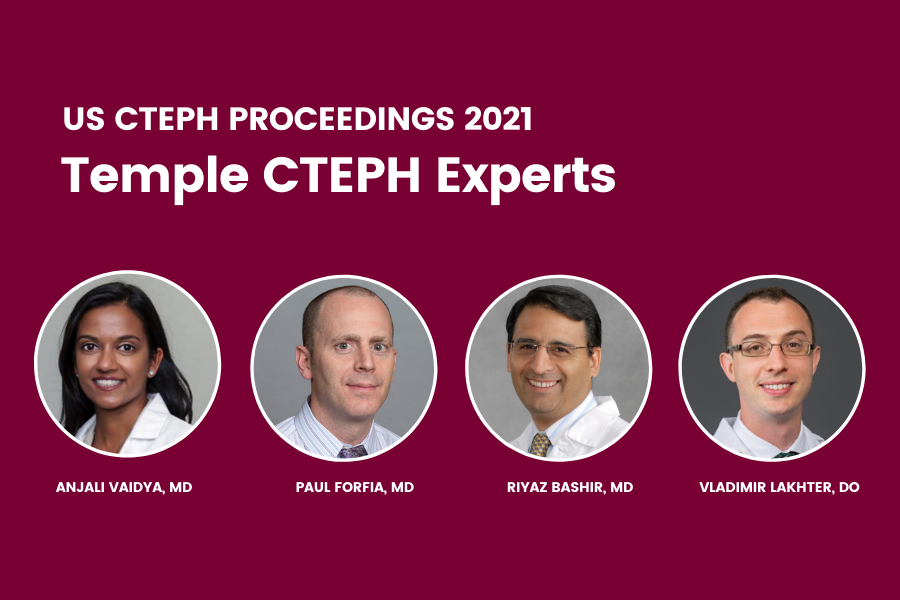 The Temple Heart & Vascular Institute's internationally recognized CTEPH cardiologists demonstrated their leadership at the 2021 U.S. CTEPH Proceedings Conference, which was held in Philadelphia in September.
The annual conference provides state-of-the-art information to cardiologists and pulmonologists who evaluate and manage patients with chronic thromboembolic pulmonary hypertension (CTEPH). At this year's conference, Temple CTEPH specialists expertly moderated several key sessions and presented 10 of the accepted 17 scientific research abstracts.
As one of the nation's largest centers for CTEPH, Temple Heart & Vascular physicians provided critical insights to help physicians from across the country better diagnose and treat this elusive condition.
CTEPH is a rare form of pulmonary hypertension that can be potentially cured with pulmonary thromboendarterectomy (PTE), and Temple's surgeons are among the most experienced and skilled in the United States.
Temple is also home to the largest pulmonary thromboendarterectomy (PTE) program, an advanced surgical treatment with the potential to cure CTEPH, on the East Coast. Temple has also had a >97% survival in the past 3 years — among the best outcomes in the nation, a remarkable feat as the program cares for high volume and complex patients from all over the country.
In addition, our Pulmonary Hypertension, Right Heart Failure & CTEPH/PTE Program is a recognized Center of Excellence, earning the Pulmonary Hypertension Association Center of Comprehensive Care designation for our demonstrated ability to effectively diagnose and treat patients with all forms of pulmonary hypertension.
Learn more about Temple's Pulmonary Hypertension, Right Heart Failure & CTEPH/PTE Program >
Direct Referrals
If you have a patient with pulmonary hypertension or you suspect CTEPH, call 215-707-7636 or email PHapptRequest@tuhs.temple.edu to schedule an appointment.