Living with eczema or atopic dermatitis can be difficult at best. Unpredictable flare-ups with intense itching, swelling and skin lesions can affect your day-to-day activities, mood and even your confidence. While eczema is most often diagnosed in early childhood, it can also develop in adults.
Because eczema symptoms come and go, you may think you need to treat your skin only during times of flare. But it's important to understand that eczema is a chronic inflammatory condition that can last many years. A proactive approach to managing your eczema may help clear your skin and keep it clear for long stretches of time.
Your first step? Get to know everything you can. Today, I'll answer some of the most frequent questions I get as a dermatologist about eczema from my patients — and my friends and family!
Can I outgrow eczema?
Even when your skin is clear, inflammation is still active under the skin and you may go into remission. About half of those who are diagnosed with eczema before the age of 2 develop immunity against substances that cause allergic reactions and their eczema symptoms resolve. Others go into remission by the age of 12. Still, many continue to have symptoms into adulthood.
Can adults develop chronic eczema?
Yes, you can be diagnosed with eczema as an adult. There are even cases of people over the age of 60 who develop it, even if they've never had symptoms before.
As an adult, going through your daily life with eczema can be challenging. Flares are different for everyone but typically are itchy, uncomfortable and can even be painful. Rubbing and scratching your itchy skin results in an itch-scratch cycle that can lead to lesions and thickened, leathery skin.
Adults with eczema may struggle with self-confidence issues due to feeling embarrassed about their skin appearance. You may also experience interruptions with your regular activities, such as sleeping or working. The effects of this chronic skin condition can cause excess stress and irritability.
What causes adult eczema?
Although the cause is not completely understood, it's thought that variations in certain genes affect your skin's ability to protect itself from irritants. Certain environmental substances trigger an immune response that leads to inflammation in and on the skin.
Triggers may include:
Allergens, such as pet dander
Certain foods or ingredients that can cause inflammation, such as dairy, gluten and sugar
Cigarette smoke and environmental chemicals
Infections
Rough materials such as wool
Severely dry skin
Stress
How can I prevent flare-ups?
Although chronic eczema does not have a cure, a proactive treatment approach may help you prevent flares and take control of your eczema symptoms.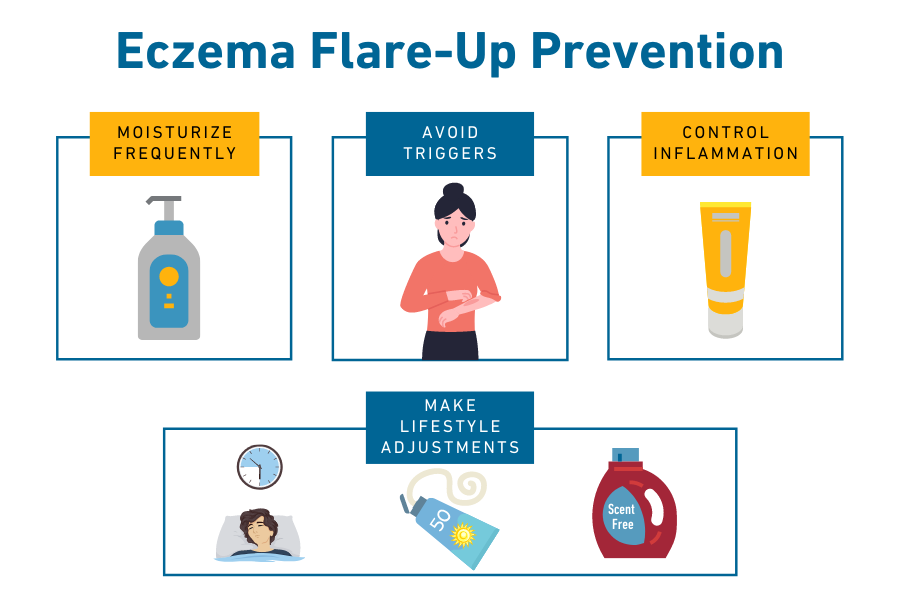 Here are some tips and treatments I offer my patients:
1. Moisturize your skin regularly.
Because constant scratching tends to break down and damage the protective layer of your skin, it's important to moisturize twice daily — even when you're not having a flare-up.
Talk to your dermatologist about the best type of over-the-counter emollient (cream, ointment, moisturizer, etc.) for your skin. Be sure to select unscented options.
Other skin care tips:
Ask your doctor which skin cleansers are best.
Keep your skin as clean as possible to avoid Staph infection.
Avoid taking bubble baths or using scented bath salts.
When you do bathe, use lukewarm water.
Moisturize within 3 minutes of exiting the bathtub or shower.
2. Avoid environmental and emotional triggers.
Eczema flare-ups can be brought on by environmental and emotional triggers. Make note of when your eczema symptoms start to appear. Do symptoms usually increase during the Spring and Fall when seasonal allergies are at their peak? Are there certain fabric materials that make you itch?
Self-knowledge and awareness will help you identify your own set of triggers so you can avoid them, if possible.
3. Control inflammation under your skin.
If your eczema is mild, your dermatologist may advise you to use hydrocortisone or topical ointment made with corticosteroids to help reduce symptoms.
If you're experiencing an infection from a flare-up, then you may also receive a prescription for antibiotics.
In moderate to severe cases, stronger prescription steroid ointments may be needed to prevent flares and calm inflammation under the skin.
Additional therapies for chronic eczema include:
Immunomodulators — medicines that suppress the activity of your immune system
Biologics — medicines made from substances that naturally occur
UV light or phototherapy
4. Make lifestyle adjustments.
Other than medication, there are some important lifestyle changes you can make and preventive actions you can take to help manage chronic eczema.
Here are some helpful tips:
Avoid staying in water for long periods of time.
Manage stress levels and get enough sleep.
Wear clothing that isn't too tight or itchy, or will make you sweat.
Look for hypoallergenic and scent-free laundry detergent, soap, body wash and other personal care items.
Use sunscreen to protect your skin.
Find the Right Treatment for Your Eczema
Everyone's case is unique, so I always recommend that people consult with a dermatologist to help figure out which methods may work best for your eczema.
Temple dermatologists are committed to helping you relieve symptoms. To find the right treatment for your eczema, call 800-TEMPLE-MED (800-836-7536) or request an appointment today.