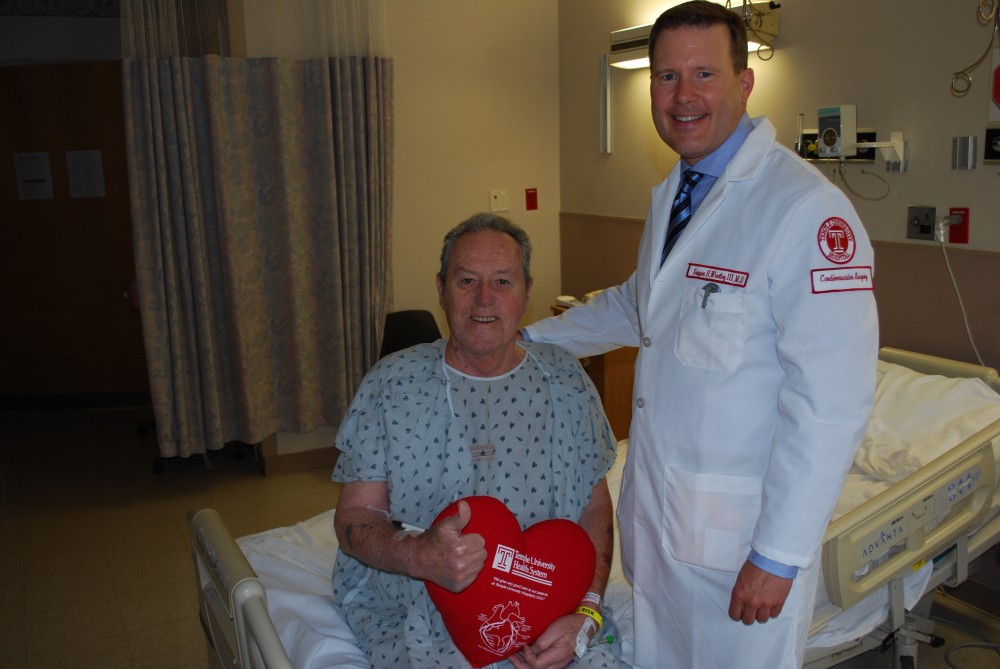 Robert Wilson (sitting) and Dr. Grayson Wheatley
---
Seventy-one-year-old Robert Wilson has lived a very active life, serving in the Air Force during the Vietnam War and Cuban missile crisis, building yachts for the Trojan Boat Company for 28 years, and helping to raise six children. He and his wife Joan live in Kenhorst, PA, outside of Reading, and they love to go on cruises.
That active lifestyle came to an abrupt halt in 2006. "Two days before we were supposed to leave for the Virgin Islands, I started having trouble breathing," said Wilson. It turned out he had atrial fibrillation and an abdominal aortic aneurysm. He had both repaired, but just a few years later, doctors discovered a thoracic aortic aneurysm. "It's like living with a time bomb," he added. "You try not to over-exert yourself because you're always aware you have a weak spot in there and you're frequently tired."
Fortunately, he was referred to Grayson H. Wheatley, III, MD, FACS, Director of Aortic & Endovascular Surgery at Temple University Hospital. Dr. Wheatley repaired Wilson's aneurysm using a minimally-invasive, endovascular approach – which entails delivering a stent to the aneurysm using a catheter instead of open surgery. Wilson was also the first patient at Temple and the first in Pennsylvania to receive the Heli-FX™ Thoracic EndoAnchor System, which uses a special "anchor" technology to secure stents to the wall of the aorta.
"This is a fantastic clinical advance because it addresses stent migration and endoleaks, the two most common complications encountered during and after thoracic endovascular aortic aneurysm repair," explained Dr. Wheatley. Wilson was able to go home three days after surgery.