Elective Procedures (Patient Information)
How to Schedule an Appointment
We offer telemedicine outpatient appointments for both new and current patients for many of our specialty services. See a Temple doctor from the comfort of your home on your phone, tablet or computer. Learn more about virtual visits.
Steps for Having an Elective Procedure
Based on guidance from the PA Department of Health and other governmental agencies and professional societies, Temple resumed performing additional procedures and surgeries. We planned our approach thoughtfully and will monitor the process very closely to minimize the risk of COVID-19 exposure and help ensure the safety of our patients.
Follow these steps for your procedure:
Step 1: Schedule your appointment.
Our schedulers will be able to provide information regarding the process we are using to help ensure your safety during the procedure.
Step 2: Screening on-site.
We screen all patients for COVID-19 prior to coming in for surgery. We will schedule the screening prior to your procedure. The screening suite is located steps from your arrival entrance.
Step 3: Meet your arrival ambassador.
On the day of your procedure, you will be greeted by your Temple Ambassador and provided personal protective equipment (PPE).
Your Ambassador will escort you throughout the pre-procedure process until you meet your procedural team. Your loved one will be provided details for our cell phone lot — located on the 2nd floor of the Ontario Garage.
Step 4: Updates during your procedure.
During your procedure, the procedural team will call your loved one with updates. This includes (1) When you arrive in the department, (2) During your procedure and (3) When your procedure is completed.
Step 5: Discharge instructions.
After your procedure, the clinical team will provide instructions for care at home. We will also call your loved one and share this information with them.
Finding Your Way on the Temple University Hospital Campus
To help you and your loved one navigate to your procedure or test, here is a map that outlines procedure drop-off, parking, restrooms, discharge lounge and more.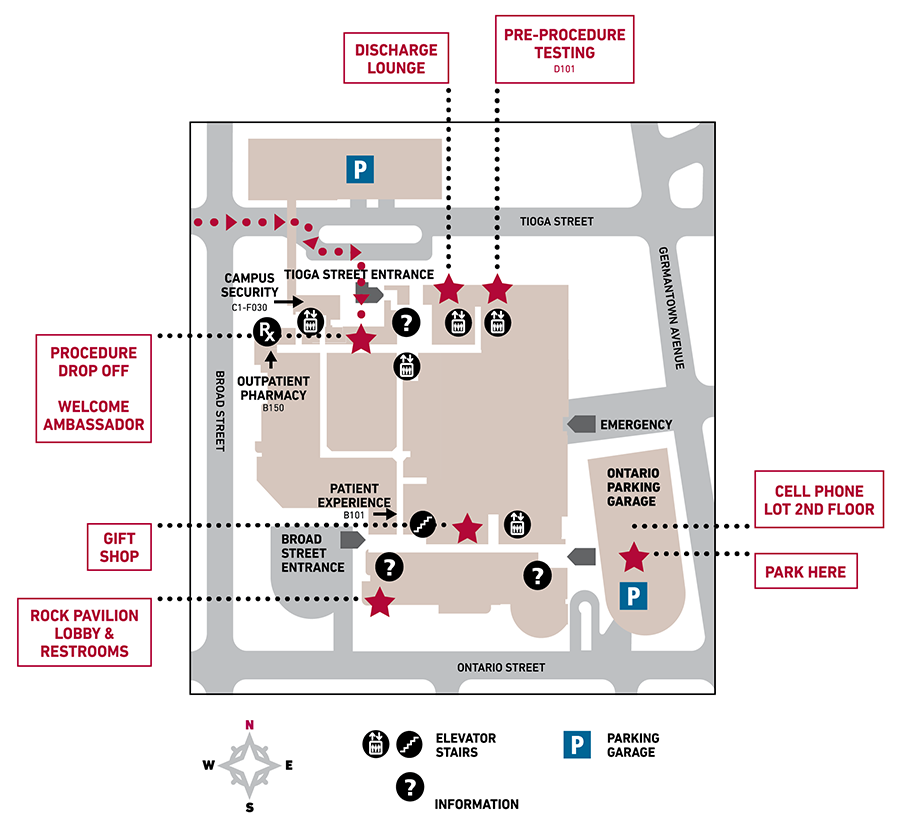 Download the Temple University Hospital Campus Map (PDF) >
Important Phone Numbers
Use these phone numbers for questions about your procedure or test:
Arrival Ambassador: 215-707-2273
Cardiology Liaison: 215-707-3565
Gastroenterology Liaison: 215-707-3291
General Surgery Liaison: 267-858-0155
Radiology Liaison: 215-707-0082
Labs and Diagnostic Testing
Our Commitment to Patient Safety
We understand that patient safety is more important than ever. That's why Temple has implemented new safety precautions and protocols designed to protect our patients and staff.
Learn more about how we are protecting you, so that you can get the care you need.