The aorta is the largest artery in the body. It carries blood from the heart to the rest of the body. This thick blood vessel rises out of the heart and bends back downward (aortic arch) through the chest (thoracic aorta) before descending further into the belly (abdominal aorta). It then branches into smaller blood vessels that supply the legs. An aortic aneurysm is a weak area on the wall of this large vessel. When blood flows through the aorta, this weak area bulges like a balloon. Aneurysms can develop anywhere along the aorta. Over three-quarters of all aortic aneurysms occur in the abdomen, while the rest occur in the chest (thorax).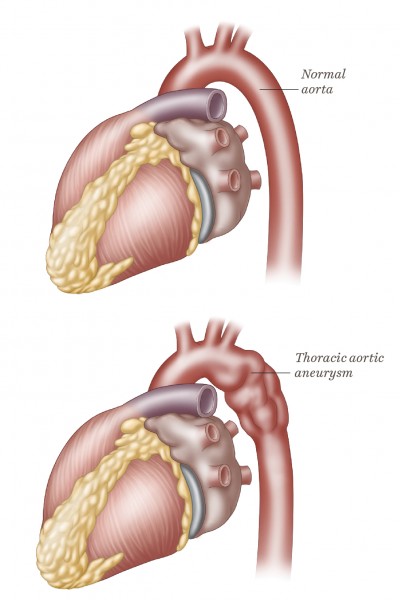 Because aortic aneurysms can burst, they are considered a major health risk. The internal bleeding from a ruptured aneurysm can result in shock or even death. For example, fewer than 25% of patients who arrive at the hospital with a ruptured thoracic aneurysm survive.
Less commonly, abdominal aortic aneurysms can result in an embolization. This occurs when clots or debris break off from the aneurysm and block blood flow to other areas of the body. An embolization can cause extreme pain and even loss of a limb.
Ready for an Appointment?
If you're experiencing signs or symptoms of aortic aneurysm, schedule an appointment or call 800-TEMPLE-MED (800-836-7536) today.
Learn more about our doctors and care team who diagnose and treat aortic aneurysm.
---