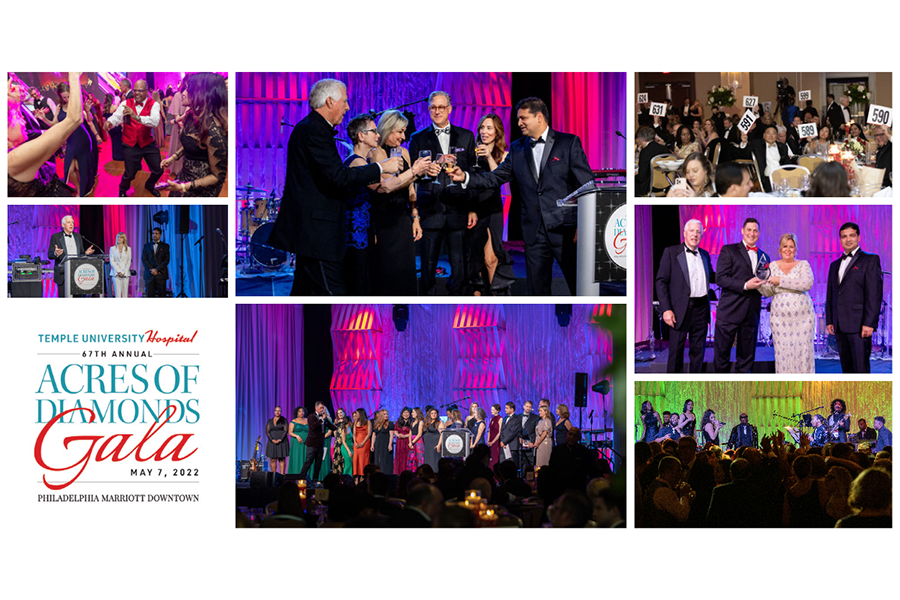 It was a celebration two years in the making, and it didn't disappoint!
On May 7, Temple University Hospital's Acres of Diamonds Gala made a triumphant, in-person return at the Philadelphia Marriott Downtown. The black-tie Gala was attended by nearly 1,100 people and raised $1.3 million to support the vital, lifesaving work across the hospital's campuses, in the community, and throughout the region.
For those in attendance, the feeling was universal – the event was worth the wait.         
"The last time we were together in this ballroom was in May of 2019. You certainly don't need me to tell you how much has changed since then," said Michael Young, MHA, FACHE, President and CEO of Temple University Health System, in his welcoming remarks.   
"These past years have held so many challenges that have truly tested who we are—as caregivers, as a hospital, as a health system… and as a leader," he added. "A leader in our community, and amongst our peer institutions in the city and across the country. And every single test, we passed. We excelled, and we emerged stronger."
"I cannot find words powerful enough to say what is in my heart, so I just humbly say thank you," said Abhinav Rastogi, MBA, MIS, President and CEO of Temple University Hospital. "Thank you, because without you Temple would not be where we are as an institution. Our great clinical quality leads to positive financial outcomes. Those outcomes—and your support—enable us to upgrade our facilities and invest in equipment and advanced technology."
A highlight of every Gala is the presentation of the Diamond Award, the most prestigious award conferred by the hospital and one that recognizes individuals and organizations for exceptional social responsibility to the human family at large and to the Temple family in particular.
This year's Diamond Award winner was the Graduate Medical Education (GME) Program. The GME program was originally slated to receive the award in 2020, but the two-year wait did nothing to dampen the excitement of the presentation.   
Accepting the Diamond Award were Susan Coull, Vice President of Medical Education, and J. Milo Sewards, MD, Program Director for the Orthopaedic Surgery Residency Program and Chair of the GME Committee.
"In the two years since we were supposed to receive this award, we have grown even stronger as a Temple family," Coull said. "When I started at Temple 21 years ago, our GME Programs was half the size it is now. We had 350 trainees when I started, and we are now close to 700. It's been a privilege and honor to watch our young students enter clinical training, matriculate through the years as they learn and mature in their specialty, and become independent physicians."
The impact of Temple's training programs was brought home when Dr. Sewards asked those in attendance to stand if they were a coordinator, administrator, or staff member in the GME office; if they were a program director; if they were a current resident or fellow; and finally, if they were Temple trained.
At that request, a sea of people stood in unison – a powerful moment that showed the breadth, generational impact and legacy of Temple's GME Program.   
The night also featured a live-auction-style special appeal that raised over $165,000 from the assembled guests to support cutting-edge clinical care and patient-centered program needs at Temple's new Women's Hospital.
Focusing on the needs of women and newborns, this new hospital campus will combine the advanced care of a leading academic medical center with an exceptional patient experience. Offering a full range of services, this campus will serve as a main healthcare destination for women of all ages.
The event also featured a vibrant silent auction and wine pull, combining to raise an additional $40,000.
Temple Resident alums Darilyn Moyer, MD, Scott B. Rosenberg, MD, Michael Weaver, MD, and Sheila Weaver, DO, co-chaired this year's Gala. Amy J. Goldberg, MD, FACS, Interim Dean at the Lewis Katz School of Medicine and previous Diamond Award honoree—also a Temple Residency alum—served as honorary Chair. More than 90 leaders and supporters from across Temple Health and Temple University served on the Gala Committee.
The evening was capped off with dancing and live music from the 18-piece show ensemble, Starlight Experience. After a two-year wait, the party was just getting started.  
If you missed the Gala, consider making a donation in support of Temple University Hospital at TUHGala.org. Photos and videos from the Acres of Diamonds Gala are available to view here.