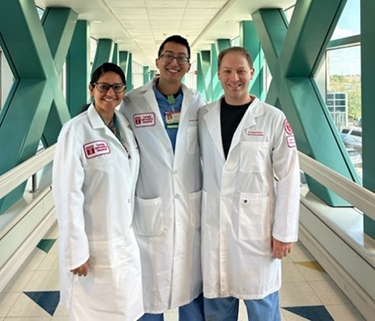 Transplant Program History
TUH is a member of the Temple University Health System (TUHS), which is composed of 5 hospitals. TUH is a 576-bed institution and is the primary hospital of TUHS located in Philadelphia, Pennsylvania. It is also the chief clinical training site for the Temple University School of Medicine, Nursing, Pharmacy, as well as other healthcare professional disciplines.
TUH performed the first heart transplant in the Philadelphia region back in 1984. Currently, it is the leader in lung transplantation, with 124 lung transplant surgeries, the most in the United States in 2022. In addition, TUH performs 60-70 abdominal organ transplant surgeries (kidney, liver, and pancreas) as well as 25 heart transplant surgeries annually. TUH has established a referral basis with area hospitals to expand our transplant programs.
For more information on the transplant programs and history at TUH, please visit our Transplant Program page.
Mission
Our mission is to provide safe, comprehensive, high quality, patient specific, pharmaceutical care in an environment of professionalism, respect, and integrity.
Statement of Purpose
PGY2 Solid Organ Transplant pharmacy residency programs build upon Doctor of Pharmacy (PharmD) education and PGY1 pharmacy residency training to develop pharmacist practitioners with knowledge, skills, and abilities as defined in the educational competency areas, goals, and objectives for advanced practice areas. Residents who successfully complete PGY2 Solid Organ Transplant pharmacy residency programs are prepared for advanced patient care or other specialized positions, and board certification in solid organ transplant.
Why Complete PGY2 SOT Training at Temple?
The PGY2 Solid Organ Transplant Pharmacy Resident will have the opportunity to work in an academic tertiary care hospital providing them with exposure to all types of solid organ transplant populations. The complexity and diversity of the patient population will challenge the resident and expand their clinical and critical thinking skills in providing comprehensive care to solid organ transplant recipients. The strong relationship between transplant pharmacy and transplant surgery/medicine is integral in providing an educational and diverse experience to the resident while also providing the opportunity to establish collegial relationships with providers and other transplant staff. Transplant pharmacists at TUH are heavily involved in providing direct patient care to solid organ transplant recipients in both the inpatient and ambulatory settings, participating in outcomes research, protocol, policy, and guideline development, and educating pharmacy and transplant staff, students, and residents.
Opportunity
There is one PGY2 Solid Organ Transplant Pharmacy Residency position available each year.
Update Nov. 29, 2023: Thank you for your interest in the PGY2 SOT pharmacy residency program at Temple University Hospital. The 2024-2025 residency position has been filled through the early commitment process and we will not be recruiting for 2024-2025 residency year. We wish you the best of luck in your residency search!