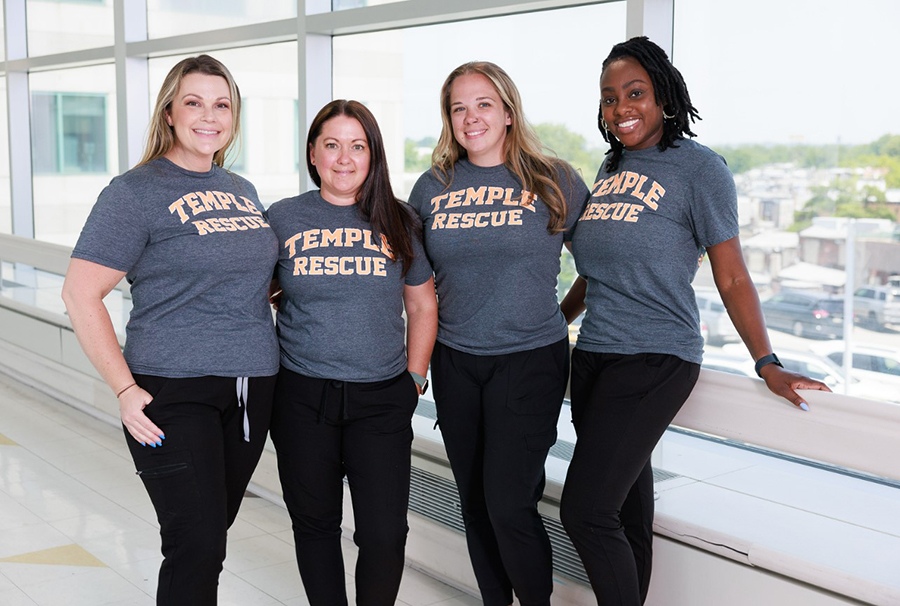 What's in a name? For the Temple Rescue Team, almost everything. There's no better way to describe a group that gets called in to resuscitate patients and provide resuscitation education throughout the Health System. Clinicians turn to them in some of the highest-risk moments, including during rapid responses and when patients code. The team is made up of four critically-trained nurses who work alongside the third-year residents who serve as House Chiefs. While the team is based at TUH-Main Campus, its members travel to other campuses to teach best practices for resuscitation.
"We're the content experts on anything involving resuscitation," says Rescue Team member Beverly Minch, BSN, RN. She and her fellow team members—Orion Garcia, RN, CCRN; Stacy Green, BSN, RN, MHA; and Jackie Weitzman, BSN, RN—are dedicated to saving patient lives and, as she says, "Making sure nurses and doctors feel confident and comfortable in the decisions they make to care for their patients."
That was the impetus behind the founding of the Rescue Team, which will turn two years old this November. Tara White, MSN, RN, CNL, Senior Clinical Performance Excellence Manager; and Dharmini Shah Pandya, MD, Associate Program Director of the Lewis Katz School of Medicine's Internal Medicine Residency Program, worked together—with the full support of Nursing leadership, including Joe DiMartino, MSN, RN, Associate Vice President of Nursing—to establish the team. "We wanted to rapidly identify acutely-deteriorating patients to help them before they became too critical to save; and to improve our resuscitation science program to standardize the care our patients get in a state of cardiac arrest," White explains. "We were also looking to improve our bedside clinical teams' knowledge and confidence in high-stress situations; and to enhance our debriefing process to ensure employees feel supported."
From Coding Eight Times to Healthy and Off Oxygen at Home
The Rescue Team has been so successful at achieving these goals that they were chosen to present their work at this year's Pennsylvania Society of Critical Care Medicine (PASCCM) Conference. The group chose to discuss a case study of one of the patients they've cared for: a pregnant woman with COVID-19 who was transferred to TUH from an outside hospital on an extracorporeal membrane oxygenation (ECMO) machine. The patient came to TUH with the intention of getting a transplant—but thanks to the RICU and the Rescue Team members, who worked closely with her over the course of six months in their capacity as RICU employees, her lungs fully recovered, to the point where she no longer needed a transplant.
"This was a patient who went into cardiac arrest eight times during her care," Minch remembers. "There were days when we thought she wasn't going to make it, and other days when we were like, 'She's got this.' She's now been home for the past two years, and she's off oxygen. And the baby she had is doing really well."
The team's presentation—which won the conference's Outstanding Case Study Award—focused on the clinical aspects of this success story, and also on what Minch calls the "psycho-social, emotional piece." "We talked about the patient's autonomy during her care, and the emotional journey leading to a successful discharge," Minch explains. "That's a huge part of the support we provide, but it's something that doesn't get discussed as much. We were the only case study at the conference to cover that aspect, and I feel like our story really hit home." 
A Life-Saving Resource, Whenever It's Needed
The Rescue Team's experience at the PASSCM Conference has inspired its members to want to share their work in other venues. "We're looking to publish this case study, and we've also submitted it to the national Society of Critical Care Medicine," Minch says. The team is also looking to expand its efforts and is actively seeking new members. (If you're interested in this opportunity, you can email Catelin Sayen at [email protected] or click here to apply.)
In the meantime, the Rescue Team remains focused on what will always be its top priorities: saving the lives of some of Temple Health's most critically-ill patients, and ensuring Temple's clinical teams feel empowered to do the same. "We want them to know that they can reach out to us personally, whenever they need help," says team member Stacy Green. "And they do—we have doctors and nurses calling us outside of our seminars, because they know that they can contact us anytime. We'll always be here for them."