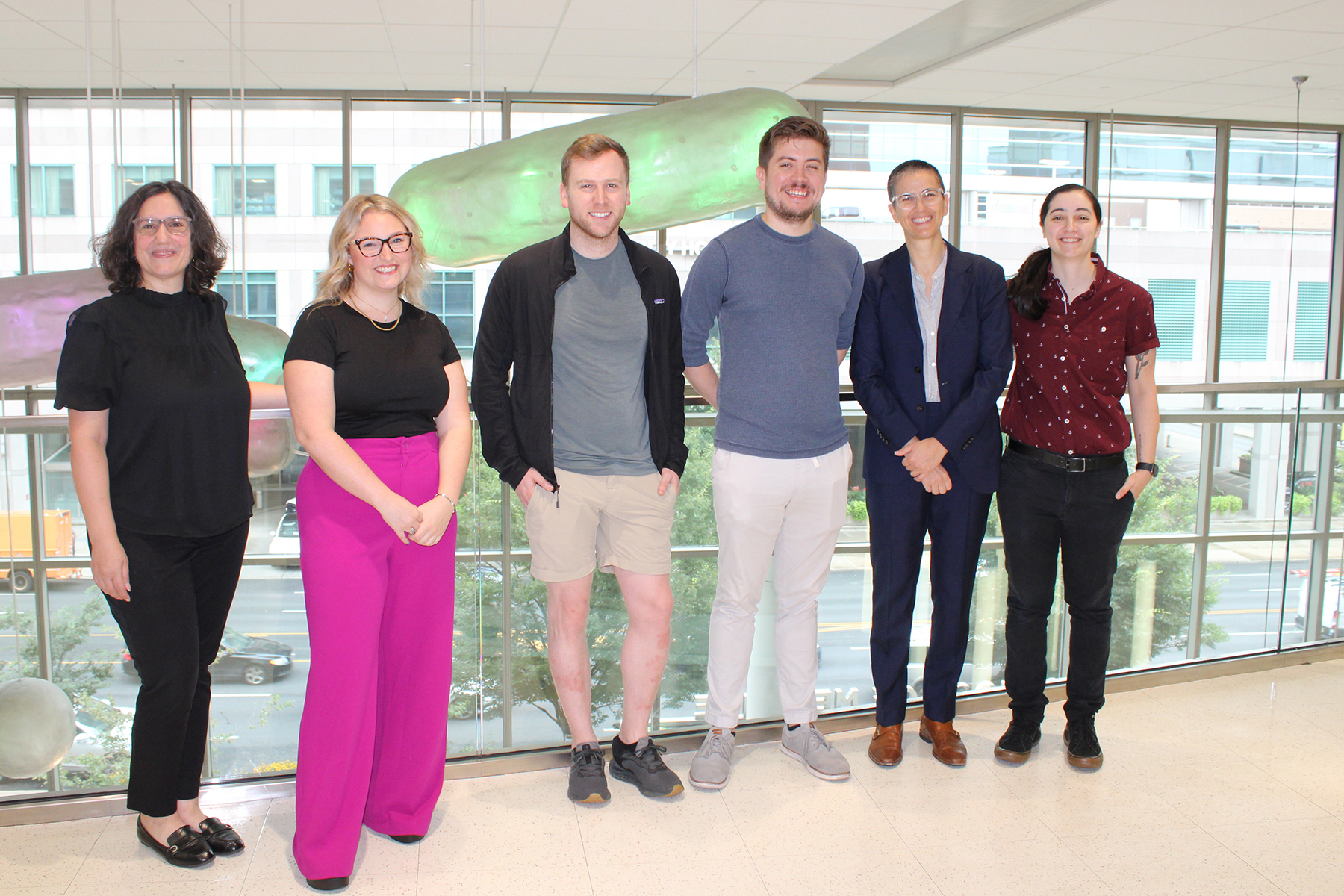 Last year, Temple launched the UNIQUE (Uniting in Inter-professional learning to serve the QUeer community through Education) Project: an initiative designed to help Temple Health Internal Medicine residents and clinic staff members improve their communication skills, build empathy, and learn about the experiences of trans and non-binary patients through simulated Standardized Patient (SP) interactions. The UNIQUE Project first got off the ground thanks to a highly-competitive grant from the Alliance for Academic Internal Medicine, the American Board of Internal Medicine, the ABIM Foundation, the American College of Physicians, and the Josiah Macy Jr. Foundation. The Project has now existed for over a year—and it's proven to be a tremendous success.
"So much has happened over the last year," says Jamie Garfield, MD, who leads the UNIQUE Project and is also Director of the LGBTQ Curriculum for the Internal Medicine Residency Program at Temple's Lewis Katz School of Medicine (LKSOM). "We started by recruiting our Community Board, and hired 10 trans and non-binary members of the community to serve in paid positions." That was an especially critical component of the project, as Dr. Garfield—who was looking to have board members help draft SP exercises to train residents and staff—wanted members who could draw from their own lived experiences.
The board then began to write these SP scenarios, which focused on common topics and identities in the LGBTQ community. "We wanted to make sure we represented transfeminine people, transmasculine people, intersex people, and non-binary people," Dr. Garfield says. "We wanted to make sure we discussed things like HIV and PReP and chest binding and chest pain, as well as the initiation and maintenance of hormone therapy, and reproductive health, family planning, and advance directives."
An Authentic Approach
The next step was to create four case studies that incorporated these issues. "Each one of these cases represents a person that we invented," Dr. Garfield explains. "We wrote the whole story of who these individuals are, and our board members ensured it was authentic. This is one of the first examples of case studies like this being written with real input from people in the community."
The four case studies cover a diverse range of experiences of trans and non-binary individuals. The first involves a non-binary/trans-fem trans woman with a sexual history as a sex worker and pain in the pelvic region, seeking HIV/PreP and STI screening as well as hormone therapy maintenance. The second deals with a non-binary/trans-masc trans man with an eating disorder looking for mental health screening and gender-affirming surgery, and experiencing pain from chest binding. The third involves an intersex, male-identifying patient seeking genetic testing for an intersex variant and engaging in reproductive health and family planning; this patient has experienced name or insurance changes, and the case study deals with a front desk to provider handoff. The final case study features a non-binary patient experiencing menopause and seeking hormone therapy initiation and cancer screening, and involves advance directives and end-of-life care.
After the board finished writing these case studies and created the tools that would be used to evaluate the residents and staff completing training, it was time to hire the community members who would serve as Standardized Patients. These community members represented the individuals in each of the case studies, and several were also trans and non-binary. By hiring them for these case studies, Dr. Garfield ensured they joined the SP pool at LKSOM's Institute for Clinical Simulation and Patient Safety—which means they could be employed for future trainings, increasing the number of trans and non-binary SPs trainees will have experience with.
Leading the Way Forward
Once all of this had been completed, the actual training could take place—and, to hear Dr. Garfield tell it, it's been an incredibly productive experience. "It's been so exciting to see our four case studies come to life, and to see our residents interacting with them," Dr. Garfield says. "There have been a lot of moments where the residents and staff have struggled—when they're having a bit of a hard time, or not asking the right questions—but that's crucial, because it shines a light on their own knowledge gaps. They, and we, know what we need to focus on going forward."
So far, the UNIQUE Project has worked with 24 residents and 12 office staff members, and is about to begin analyzing the trainees' before-and-after surveys and preparing a manuscript for publication. "I want these cases to be published, and widely, so other institutions can use them for their training," Dr. Garfield says. "And while we're still deciding whether we'll continue to use these cases for our residents—I certainly hope so—we definitely will be using them for our medical students."
All of this is in service of the same goal that originally inspired the UNIQUE Project: to better equip physicians and staff to create a more inclusive and welcoming healthcare environment for trans and non-binary patients. Dr. Garfield and the rest of the UNIQUE Project members are leading the way in doing so—and their example continues to inspire the rest of us at Temple Health.