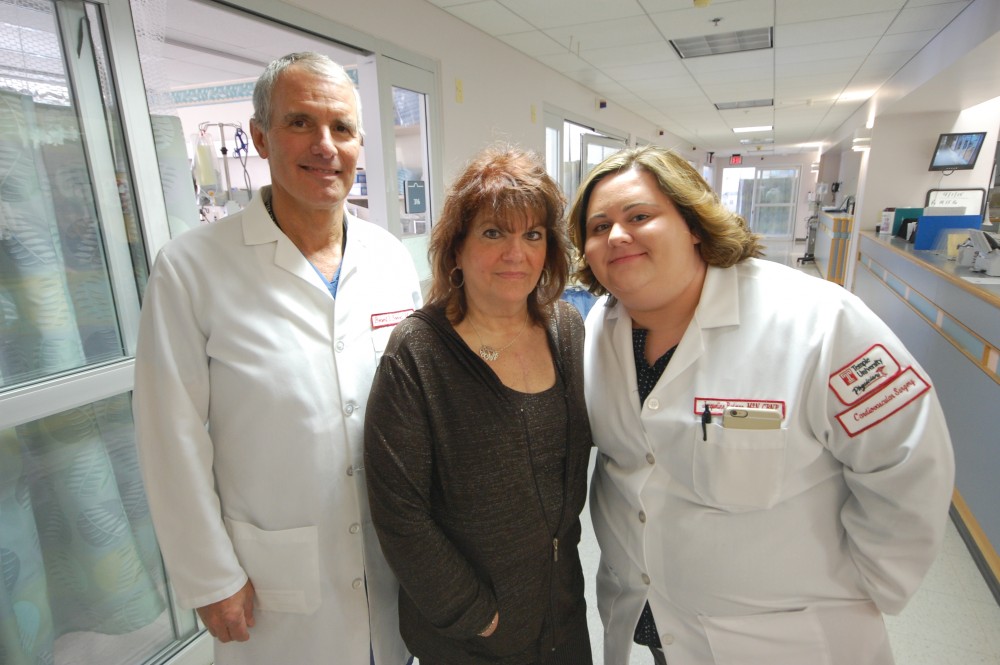 Dr. Robert Boova, Sharyn Shill, and Jackie Redman
---
As a hospital administrator for more than 30 years, Sharyn Shill thought she knew which hospitals to go to for routine care and which ones to go to for "out of the box" problems.
She would be proven wrong.
Shill's story began last July when she twisted her back while opening a window. A few days later she was getting ready to go food shopping when her husband asked her how she felt.
"I told him my back was better but I was having muscle twinges above my collarbone in my neck," she says. "He immediately told me we were going to the ER. I joke about never listening to him in the 48 years we've been married but, lucky for me, I listened that day!"
It's good she did. In the ED, it was determined Shill was at serious risk of a heart attack. A cardiac catheterization revealed blockages in several arteries around her heart, and the doctor recommended that she see a cardiac surgeon at Jeanes Hospital for coronary bypass surgery.
That surgeon was Robert Boova, MD, who joined Jeanes Hospital in 2013 as Chief of Cardiovascular Surgery. Experienced and well-known in the region, Dr. Boova had previously been System Chief of Cardiac Surgery at Main Line Health for 13 years. When he operates at Jeanes, he works with the same team of anesthesiologists, surgical nurses and technicians who work at Temple University Hospital.
"We provide many of the same services and offer the same level of care that is offered at Temple, just in a different setting," says Dr. Boova, who is also Clinical Professor of Surgery at Temple University School of Medicine. "We have excellent surgical outcomes and are able to treat complex patients with advanced cardiac diseases."
Word is starting to spread. In 2014, Jeanes Hospital performed its highest number of cardiac surgeries since the program launched in 2007. In addition to coronary bypasses, Dr. Boova and his team treat patients with structural heart disease such aortic and mitral valve disease.
It's not just patient volume that is turning heads. In 2013, the program received the highest ranking possible from the Society of Thoracic Surgeons for coronary bypass surgery. Less than nine percent of cardiac surgery programs nationwide receive the highest ranking.
"We are proud of our achievements here," says Jackie Redman, Manager of Cardiovascular Surgery at Jeanes Hospital. "For example, our accelerated recovery pathway allows us to remove 70 percent of our bypass patients from the ventilator before they reach the ICU, versus about three percent nationwide. This means our patients are awake and breathing on their own and can be out of bed within hours of surgery."
The impressive data continues – for example, more than 98 percent of bypass surgeries at Jeanes Hospital last year were performed without requiring the use of a heartlung machine, and aortic valve repair had a mortality rate of zero.
Count Sharyn Shill as one of the program's biggest cheerleaders.
"Healthcare workers are the biggest critics, but I can honestly say that from the minute I arrived at Jeanes my experience was excellent," she says. "What a wonderful thing to have this level of medical care so close to home."
Within days of her bypass surgery, Shill was home. She followed up with four weeks of cardiac rehabilitation at Jeanes Hospital.
"The rehab was great. They answered all of my questions, gave me confidence, and provided compassionate and excellent care every day," she says.
Today, Shill is in great health.
"I had more issues with my gallbladder surgery in 1971 than I did with my heart bypass," she says, laughing. "When the home nurse came to visit after my discharge I answered the door and she asked if the patient was home. I said, 'I am the patient.' She couldn't believe it!"