Temple Head & Neck Institute Newsletter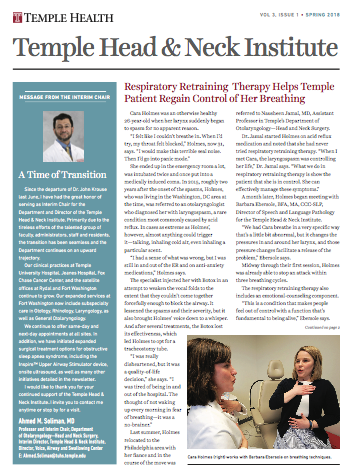 Newsletter Issues
Publications & Presentations
Selected Publications: 2016-2017
Adelman J, Shaigany K, McLean C, Krouse JH.  The role of surgery in management of Samter's triad:  A systematic review. Otolaryngol Head Neck Surg, 2016;154:220-37.
Chan NJ, Soliman AM.  Angiotensin converting enzyme inhibitor-related angioedema:  Onset, presentation, and management. Ann Otol Rhinol Laryngol 2015;124:89-96.
Galloway TJ, Ridge JA.  Management of squamous cancer metastatic to cervical nodes with an unknown primary site. J Clin Oncol 2015 Oct 10;33(29):3328-37.
Isaacson G, Ianacone DC, Wolfson MR.  Ex vivo ovine model for pediatric flexible laryngoscopy training. Int J Ped Otorhinolaryngol, 2015 Dec;79(12):2196-9. 
Jamal N, Erman A, Chhetri DK. Partial epiglottoplasty for pharyngeal dysphagia due to cervical spine pathology. Otolaryngol Head Neck Surg 2015;153(4):586-92. 
Kamrava B, Mukherjee A, Weaver M, Roehm PC. Temporal malignant solitary fibrous tumor. Otol Neurotol 2016;27(5):e185-6.
Krouse JH. Allergy and laryngeal disorders. Curr Opin Otolaryngol Head Neck Surg, 2016;24:221-5.
Lango MN, Galloway TJ, Mehra R, Ebersole B, Liu JC, Moran K, Ridge JA. Impact of baseline patient-reported dysphagia on acute gastrostomy placement in patients with head and neck squamous cell carcinoma undergoing definitive radiation. Head Neck 2016 Apr;38 Suppl 1:E1318-24.
Liu JC, Pynnonen MA, St John M, Rosenthal EL, Couch ME, Schmalbach CE. Grant-writing pearls and pitfalls: maximizing funding opportunities. Otolaryngol Head Neck Surg 2016 Feb;154(2):226-32.
Murphy CT, Devarajan K, Wang LS, Mehra R, Ridge JA, Fundakowski CE, Galloway T. Pre-treatment tumor-specific growth rate as a temporal biomarker that predicts treatment failure and improves risk stratification for oropharyngeal cancer. Oral Oncol 2015;51(11):1034-40.
Roehm PC, Shekarabi M, Wollebo H, Bellizzi A, He L, Salkin J, Khalili K. Inhibition of HSV-1 replication by gene editing strategy," Scientific Reports 2016, 6:23146.
Toskala E, Kennedy DW. Asthma risk factors. Int Forum Allergy Rhinol 2015 Sep;5 Suppl 1:S11-6.